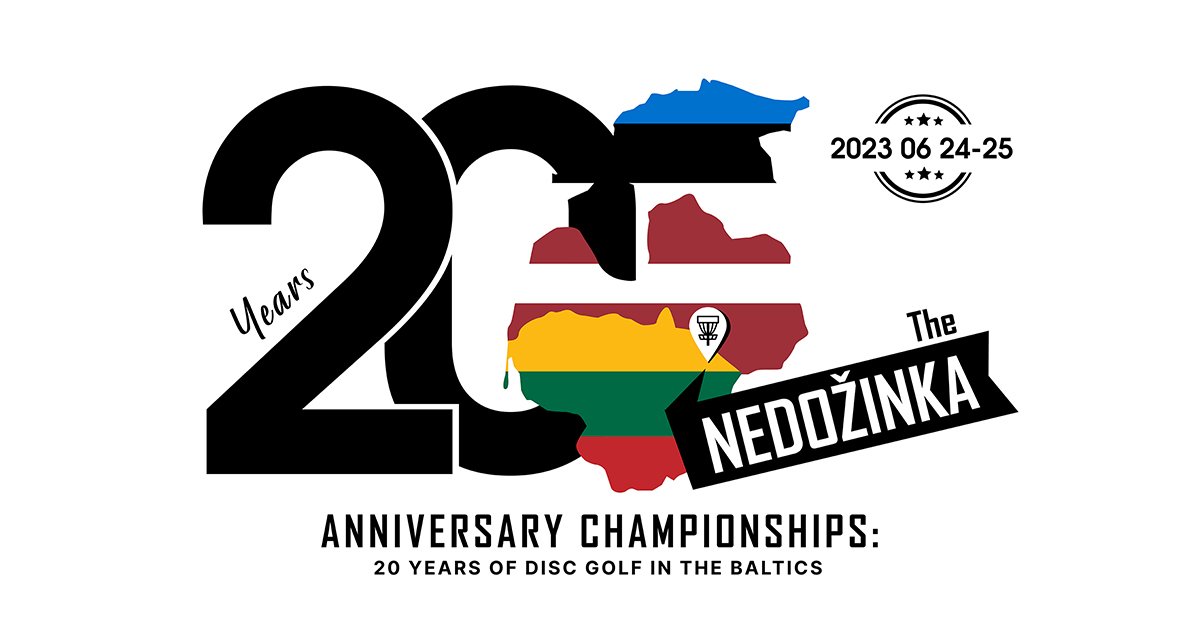 SPONSORED BY
Event page - PDGA C-Tier
When: 2023 June 24-25
Where: Nedožinka disc golf course (how to find) - the OLDEST permanent course in the Baltics!
Registration link on metrix
Registration closes at June 20. 11 PM
Player is confirmed to the tournament after registering on dgmetrix system and paying the player's fee. Please make a payment within 24 hours after registering. If you see your name on event's PDGA page - you have been confirmed! Organizers keeps the right to remove unpaid registrations. In this case the player need to make a new registration.
Max number of players - 90. After confirming 70 players, other registered and paid players forms the waiting list. Players from the waiting list would receive a spot in the tournament if someone cancels their participation or TD gives a wild card for a player. TD keeps 20 wild cards, which will be distributed to players not later than 3 days before the end of the registration.
Player fee:
MPO, FPO, MJ18, MA4 – 15 EUR
Payment info:
The bank wire payments only

. Recipient: VŠĮ Disccity team, IBAN: LT12 3500 0100 1163 7489. Subject:

NEDOZINKA 20, name, surname
The player fee will be refunded 100% for players on the waiting list who has not received a spot in the tournament.
If confirmed player cancels his registration not later than 24 hours before the end of registration Player's fee is refunded (minus 5 EUR administrative fee). There is no refund if a player cancels registration later or simply doesn't come to the event.
ACE bank:
IRegister for an ACEBANK race
Pay 2eur to tournament TD Tadas Uselis account LT097300010000202818 with reference NEDO2023 ACEBANK
You can combine payment (save money for a transfer), please refer (mentioning surnames) who is in the race
If no one will win the race, bank will be transfered into lotery prizes during award ceremony
https://discgolfmetrix.com/2609966

Food orders: https://forms.gle/Fcwg1ufReS7dwYhR7 .
Reservations on spot: rooms at local guest house (kitchen, shower, WC, beds with bedding), tents - call Andrius Navickas (+370 601 57747, e-mail andrnav * yahoo.com)
Info about staying in tent:
5Eur/person fee for using indoor (shower, WC, kitchen) and outdoor features (grill, fireplace). Payed on site to TD or owner.
Event format: 3 rounds of 18 baskets
Divisions:
MPO – open for everyone.

FPO - open for all women.

MJ18 – for all players born on 2005 or later.

Amateurs (MA4) – for everyone whose PDGA rating is <=850 or non PDGA members (but if your game level is higher - pleae chose MPO).
Player pack:
Awards:
Additional DiscCity.eu side games
Longest putt on #8 and CTP at #2 - both side games will be played separately among male and female players. Saturday rounds only!
Ties
If there are ties in any divisions, where trophies can't be split, there will be "sudden death" play-offs on two baskets (#1 ir #2). If it is still a tie - CTP to #2 basket from the spot indicated by TD. CTP id won by the player whose far side of the disc is closer to the pin (no matter on what hight - on the gournd, in or on the basket).
Schedule:
June 23 (Friday)
From 10.00 - Practice day (free - for tournament players ONLY)
From 12.00 - Doubles (Open and Mix). Flex start. Latest start - 17.50 (info and registration: https://discgolfmetrix.com/2593110)
June 24 (Saturday)
10.00 Player's meeting (live on the cours!)
11.00 – 1st round
14.00 – 15.30 break
15.30 – 2nd round
19.00 – Special Putting Challenge
20.00 - Barbecue, other fun (football, voleyball, Kan Jam, swimming, sauna etc.)
June 25 (Sunday)
10.00 – 3rd round
~13.00 - Awards
Tournament director (TD):
Tadas Ūselis, +370 696 72200, tadas.uselis * DiscCity.eu
co-TD
Darius Gricius, +370 687 81223, darius.gricius * DiscCity eu
Main sponsor:
Organizers: